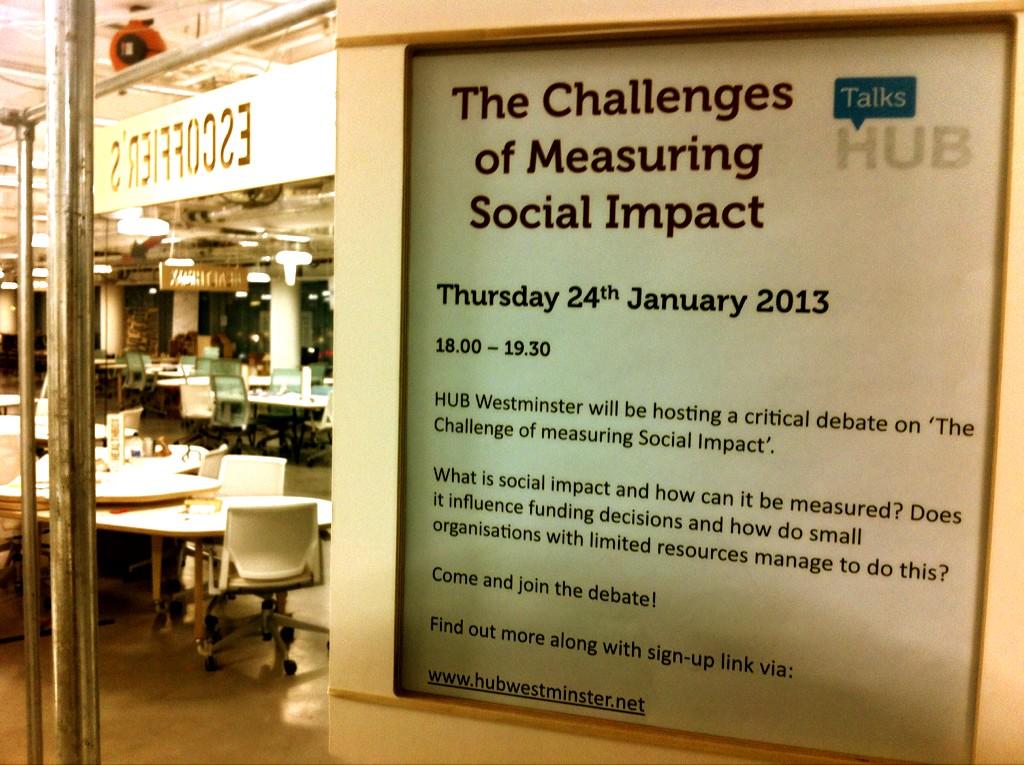 On the 24th January I am be chairing a debate about the Challenge of Measuring Social Impact at Hub Westminster. If you wish to contribute to the debate online please use the hashtag #hubmsi.
There has been a lot of discussion and numerous reports written about the value of measuring social impact alongside many challenges about understanding the relevance and influence of social impact. According to New Philanthropy Capital  75% of charities measure some or all of their work, and nearly three-quarters have invested more in measuring results over the last five years.
Providing evidence of your organisation's social impact has become increasingly important. Most charities cite requirements from outside funders as the key driver for measuring impact, as well as the wish to tell stakeholders about the social value they generate. The public sector and charities are inextricably linked and a number of social enterprises are reliant on public funding either through contracts or grants.
Complex social problems require a collaborative approach across many sectors. Being able to demonstrate your social impact and social value are essential to maintain public and political support in these challenging times.  I invited people on Twitter to submit their one big question about social impact and received the following responses:
Panelists have contributed their thoughts in advance of the debate Social Impact Assessment in India @pathik10
How do I measure social impact? My answer @Brownsdon
Challenging thoughts about measuring social impact @davidsocialsp
"Is it useful for social impact to measured using systems – such as SROI – that attempt to put cash figures on the social impact generated by particularly activities?"
"What role does social impact measurement play in the overall battle for resources? Should resources be targetted at generating the greatest possible volume of positive social impact – if we were in the position to agree on what that meant – or are certain types of positive social impact a higher priority than others?"
Some recommended reading and resources about social impact measurement
Evaluation on the (Cognitive and Digital) Edge Keiron Kirkland Nominet Trust
Measurement a force for good? Daniel Robinson Nominet Trust (mentions two measurement tools)
Social Impact Investing Will Be the New Venture Capital – but how do you measure it? Big Society Capital
Making an Impact New Philanthropy Capital
Evidence Standards for Impact Investment Nesta Impact Investment Fund
A Guide to Social Return on Investment The SROI Network
'Measuring Up' a new pilot self-assessment tool to improve  planning, monitoring and evaluation Charity Evaluation Services
Measuring and Demonstrating Impact Guardian Social Enterprise Network (December 2012)
In case you don't understand social impact tech terms I recommend reading Jargonbuster from @CESonline 

Quantifying social costs in financial terms has always been a point of contention, and there is also a debate about whether the social sector needs to agree a common standard for measuring social impact. Do share your favourite assessment tools and recommend your favourite reading and resources.